Let me start by saying how much I appreciate it when you tell me en masse that you miss me eating my way through theme parks. I appreciate it so much! Also, please stop! We're doing something new for the moment for safety reasons, and I think you're going to love it.
So! Welcome Slightly Kosher to the Delish roster with an open heart and an open mind. It'll be a fun new pandemic adventure for us: I make my mom's favorite Jewish recipes that I adored growing up, she talks me through them somewhat meanly via FaceTime, and you all get to learn more about the deliciousness and accessibility of Jewish food—win, win, win, yeah?
Given that Hanukkah is almost upon us, we decided to kick off the show by making the brisket that Liz Koman puts together two to three times a year. It's based off a super old Joan Nathan recipe originally published in the New York Times, but we've made several tweaks over the years to make it (1) a more fully rounded meal that (2) lasts you an entire week and (3) is sweet and salty as fucking fuck, and, therefore, something you'll crave just about every time the seasons change.
Crucial to the success of this dish is to make a slightly smaller brisket than what the original calls for and to keep the quantities of the sauce ingredients exactly the same. (Conversely, if you're making a huge brisket to feed 48329 people, double or even triple the sauce, babe.) Either way, you end up with a gorgeously crusted slab of beef with more than enough meaty juice to cover every single bite.
In this version, I made a five-pound brisket and slathered it in a combination of 1.5 liquified onions, six cloves of garlic, a generous cup of ketchup, a quarter-cup of red wine vinegar, soy sauce, and Dijon mustard, almost a full bottle of regular Coke, a half-cup of olive oil, red wine, and maple syrup, a little hit of mirin, black pepper, and a buttload of kosher salt (I know, I know). Also important? To lay all the above on a bed of your favorite root vegetables, ideally ones that get melty and slithery when given heat for a very long period of time; I love yellow potatoes, fennel, more onions, and big hunks of carrots as a base.
All in, depending on the toughness of the meat, it'll need about eight to nine hours in the oven at 325-350 degrees (if it's super tough, go with the latter). After the first three hours, you flip it. After another three hours, you uncover it and flip it again. Give it another hour before you pass out. Let it sit overnight in the fridge so the fat all congeals and throw it back in the oven in the morning at 350 to get it to really fall apart. Slice it however you'd like (I like big, thick pieces, FWIW), and get it back in the heat. You'll know it's done when you can stab it all the way through with ease—also, the vegetables will be slightly soupy.
See? I told you we'd have fun here. And I didn't even say "l'chaim" once! Win-win-win-win, you guys. See you next time. :)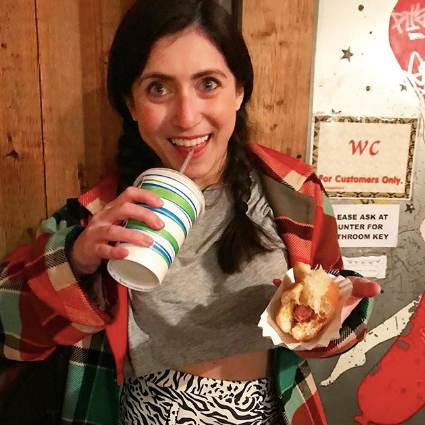 Digital Director
Tess Koman covers breaking (food) news, opinion pieces, and features on larger happenings in the food world. She oversees editorial content on Delish. Her work has appeared on Cosmopolitan.com, Elle.com, and Esquire.com.
This content is imported from OpenWeb. You may be able to find the same content in another format, or you may be able to find more information, at their web site.