41 Scary-Good Halloween Recipes To Make This Fall
New! You can now save recipes. It's free!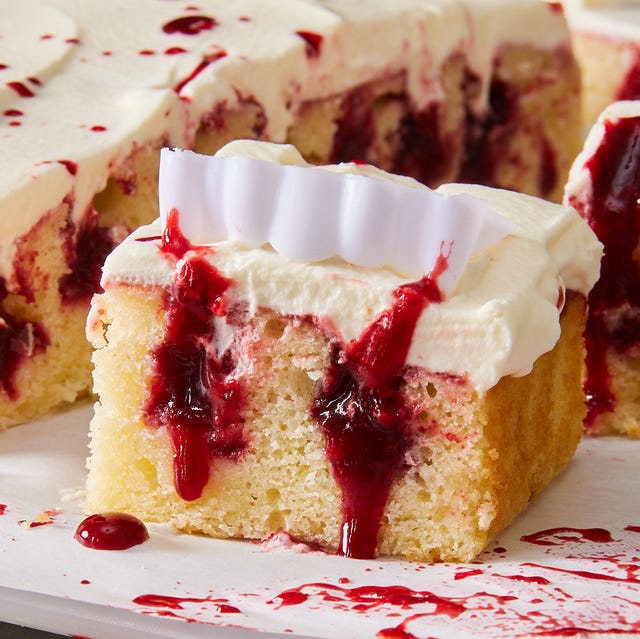 PHOTO: ERIK BERNSTEIN; FOOD STYLING: MAKINZE GORE
If you're in need of a Halloween drink, halloween app, or halloween dessert that looks like it was dreamed up in Frankenstein's lab, these spooky recipes will do the trick. Don't worry—they taste way better than they appear. These Halloween treats are both scary looking and scary delicious, and include our Ouija board cake, poison apples, and monster truffles!

Want to really creep out your party guests? Look no further than these scary and gross-looking Halloween food recipes, like Bloody Mary syringes, blood drip cupcakes, and a brain big batch Jell-O shot. Our dead velvet cake is one that's truly to-die-for too! Be sure to round out your terrifyingly delicious spread with eyeball pasta and pickled brains.

We're pretty sure you'll want to sink your teeth into these Dracula denture cookies and mummy pops. Not even scary spiders can keep us from eating spiderweb cake, glowing black widow Oreo pops, and Halloweentown marshmallow spiders. One of our favorite spooky treats is, without a doubt, dirt pudding and dirt cake. Mix up some almost too realistic jelly worms to top yours, and you'll really freak out your friends and family.

And if you're still stuck on how to decorate this Halloween, we've got some Jack-O'-Lantern ideas that will trick out your front yard, as well as next-level trunk or treat ideas. Looking to keep that party going? Check out our Halloween desserts and halloween cocktails for more spooky recipes and creative ways to use up Halloween candy.